Fumigation
International
Zimbabwe
The Pest Management Professionals
Fumigation International Zimbabwe (FIZ) has been in operation since January 2011 and is a commercial enterprise offering tailor-made solutions in fumigation, hygiene and pest control in Harare, Bulawayo and other major cities. We cater to the retail, commercial and domestic markets and over the past decade, we have grown out of a head office in Harare, to a National footprint throughout Zimbabwe.
FIZ is compliant with both South African Bureau of Standards (SABS) and Standards Association of Zimbabwe (SAZ) best practices. We have offices in Harare, Bulawayo, Mutare, Victoria Falls and Kwekwe and provide service countrywide.
Fumigations are conducted by qualified personnel and adhere to the highest in-house health and safety standards. Before any job, a thorough pre-fumigation risk assessment is conducted and documented for the client, incorporating post-fumigation factors as well.

During the fumigation process, Phosphine gas is utilised in an enclosed space and penetration of the product at atmospheric pressure is reached in order to eliminate all insect life stages. Concentration levels and product temperatures are monitored thoroughly and upon completion of the process, a fumigation certificate is provided.

Throughout the process, CORESTA standards are adhered to, ensuring compliance to the customer's safety and security procedures as well.
Fumigation solutions
FIZ offers clients unparalleled service transparency and traceability through an online platform, which enables data capture in the field to be relayed back to the client in real time.
Trap and gas monitoring is captured live and is accessible on the platform at all times for review by the client.
This online system is accessible via a Web portal and iOS/Android apps.
Domestic & Commercial Pest Control
To help clients manage and minimise pest risks – we implement an Integrated Pest Management (IPM) program to ensure effective controls and procedures are put in place to deal with any pest-related issues. IPM is a modern, sustainable approach that encourages natural pest control mechanisms to ensure the least possible disruption to products, agroecosystems, and risks to human health and the environment. IPM covers three key stages of the pest control process, which are – prevention, monitoring and control.
We target pests such as Mosquitos, Cockroaches, Rodents, Termites and many more, that can spread dangerous diseases and infestations while damaging valuable products. IPM is suited for domestic residences, hotels, restaurants, factories and any facility that needs pest control and eradication.
IPM is a hassle free, all-encompassing service which alleviates all of your pest management issues from start to finish, leaving you to focus on what you do best; running your business. The necessary equipment is installed at our cost and we will quote for a monthly management fee with service and corrective action reports provided at each service.
The IPM service is fully compliant with SAZ, SABS, Environmental Management Agency, TIMB and the Ministry of Agriculture.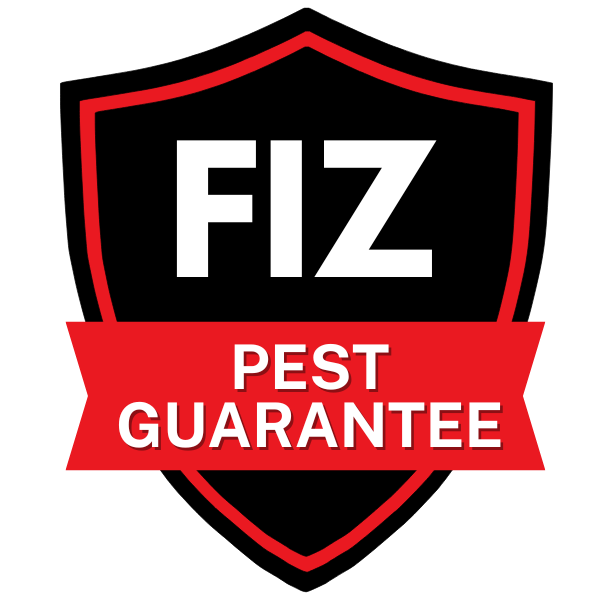 Service satisfaction guarantee
14 Day Warranty provided on Pest Control services. We will repeat the job free of charge if the first service did not meet your expectations.
Cleaning & Hygiene Services
The FIZ Cleaning and Hygiene department provides professional and complete turnkey solutions to offices, warehouses, banks and homes without disrupting the clients day-to-day workings. We are experts in environments requiring meticulous cleaning and attention to detail. We provide:
Daily cleaning services – includes chemicals and preparations specific to your site.
Hygiene services – includes all units supplied on a serviced basis.
Feminine hygiene units – serviced and maintained by our competent staff.
Ablution hygiene treatment – deep cleaning of all ablution areas including toilets, showers, urinals and washbasins.
Kitchen cleaning – deep cleaning of kitchen areas specific to the hospitality industry.
Warehouse and silo cleaning.
Covid 19 disinfection services with a certificate of disinfection supplied thereafter.
FIZ is a distributor for market leading international brands such as Degesch, Bayer and Coopers Environmental Science. We provide a range of baits, traps, chemicals and hygiene products to customers throughout Zimbabwe. For a full product and price list, please contact us directly.